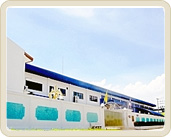 T.M.G. Equipment co., ltd. was established in Bangkok, Thailand for more than 10 years We are leading manufacturer and exporter in wide range of products such as O-rings, Oil seals, Floating seals and other rubber gasket products.
Our factory is located in Samutsakorn to produce our best quality products. We use High-technology machine to reduce producing time and mistake and our skillfully staffs definately please to service you as our best customer.
For rubber products we can also do our mould computerized using CNC machine by our skillful staffs. So we can make by our customers' specification.
For more information please contact : taido@taidoseal.com