O-Rings & O-ring kits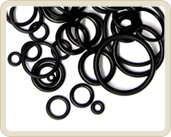 An O-ring is a loop of elastomer with a round (o-shaped) cross-section used as a mechanical seal or gasket. They are designed to be seated in a groove and compressed during assembly between two or more parts, creating a seal at the interface.
O-rings are one of the most common seals used in machine design because they are inexpensive and easy to make, reliable, and have simple mounting requirements. They can seal tens of megapascals (thousands of psi) pressure.
Our O-ring seals are available in various metric and standard sizes. and we also provide O-ring kits with the good quality of o-rings.
O-ring kits
We provide 2 types of O-ring Kits. In Matric sizes and Imperial sizes as follow: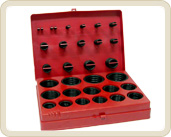 TD MODEL: O-Ring kit 5A NBR 90 or NBR 70
IMPERIAL SIZE (AS 568 Standard series)
006,007,008,009,010,011,012,110,111,112,
113,114,115,116,210,211,212,213,214,215,
216,217,218,219,220,221,222,325,326,327

TOTAL 30 Items (382 Pieces)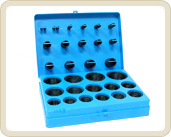 TD MODEL: O-ring kit 5B NBR 90 or NBR 70
METRIC SIZE (JIS standard series)
P3,P4,P5,P6,P7,P8,P9,P10A,P11,P12,P14,P16,
P18,P20,P22.4,P25,P26,P30,P32,P34,P36,P40,
P48,G25,G30,G35,G40,G45,20X3,22X3

TOTAL 30 items (382 Pieces)
O-ring P/G Standard Printable Version